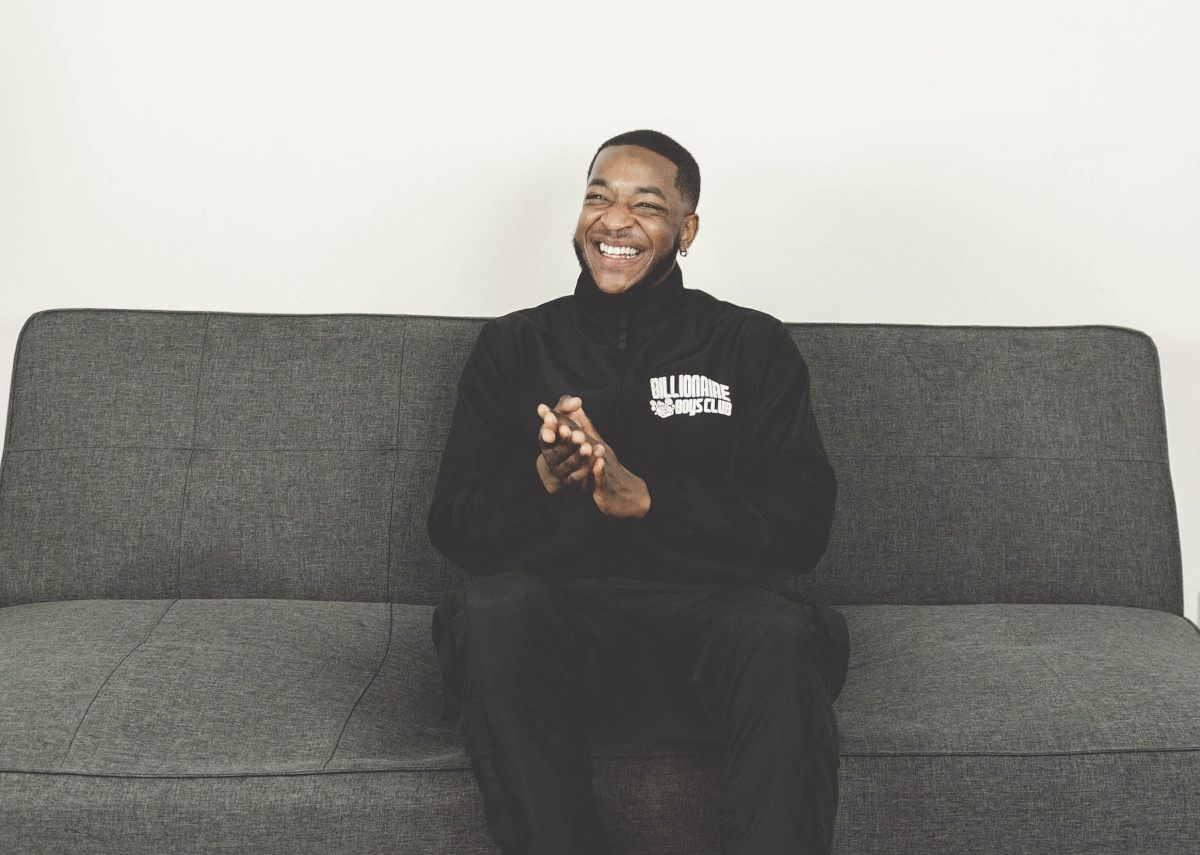 How Flashy Sillah's 'Block Report' is pushing British rap forward
Flashy Sillah has his finger on the pulse of British rap and the culture that encompasses the new generation of black British music lovers – and you might be hard pressed to find anyone as enthusiastic as he is right now.
The series of interviews of the young man of 24 years, The block report– hosted exclusively on Mixtape Madness' YouTube channel – is a by-product of the Covid-19 pandemic: it started in 2020 as a way for him to document the news of British music culture as he sat outside his estate in Tottenham, North London. Inspired by the diverse cultural heritage that has enriched his region, as well as talents such as content king Poet and grime superstars Skepta and Jme, Sillah follows in the footsteps of the great Brits in his own unique way. Four seasons and counting, the music geek has already called on Youngs Teflon, Kojey Radical and M1OnTheBeat at the Block Report bench, where in-depth conversations take place about music, football, fashion and more.
Now, The Block Report has taken on a new form as an IRL experience, bringing together intimate-sized crowds for open-mic parties in a bid to give unknown artists a chance to compete for the winning spot. Not only does each entrant get to show off their talent in front of trend setters and potential new fans, but the winner also wins a free music video which is uploaded to Mixtape Madness. Sillah's exciting and almost childlike penchant for talent discovery gave him the ability to recognize artistic potential and star power in front of the masses. It was this very instinct that led him to select 15-year-old rapper Shakes to perform at his latest event, which went on to win the showcase. Months later, the young artist signed to Sony imprint Dream Life Records and became a viral sensation with his Cord Socials. A-Z freestyle and its appearance on spindle game.
We caught up with Flashy Sillah at No Stars, a North London recording studio, to find out The Block Report's origin story, his long-term vision for the project, the importance for content creators of have their own platforms, and more.
"Having your own thing, as we all say to artists: ownership is key! Whether it's a small, medium, or large-scale platform, owning what's yours is extremely important. »
COMPLEX: You were born and raised in Tottenham, an area in north London that has given us a wealth of talent. What role did your end play in your journey to music?

Flashy Sillah: I borrowed so much from people who came out of my ends like Skepta, Jme, Frisco, Headie One, and even just going to school with M1OnTheBeat – being surrounded by so much inspiration played a big part and that made me more open-minded. Poet, who is a GOAT in the content creation space, is also from Tottenham; it was he who made me think: "Rah! I could do the exact same thing. I can also be a content creator. All of these guys' hard work has helped break down barriers and opened the door for me to do what I'm doing now.
You first started The block report as a YouTube interview series in 2020, but in just two years it's become much bigger than that. How did the idea for the show come to you?
I originally had a show on the Cold Drinks Podcast YouTube channel called Sillah's Sound Lab. It lasted about three episodes and then Covid hit. I said to my cameraman, "Listen, the studio isn't for rent right now because everyone's closed, but come to my block, bring your tripod and we'll shoot on the bench." I'm just going to report what's happening on the music scene and my favorite songs of the week. I love the backdrop of my property, how grainy it looks, and I knew my director's camera could bring out the graininess of that because it's so clear. And then, it went away on its own! I came up with the name because it's obviously placed in front of my block, but it's also based on one of my favorite albums: The war reportby Capone-N-Noreaga.
How would you say The block report is different from other UK music shows?
I would describe it as a place where people who come from a field can hear the opinions of someone like me, who speaks like them or who comes from a place similar to where they come from. It's up to them to get information from the scene in a way that's relevant. We see a lot of media – or let's say interview platforms – that are in studios, but it's not really consumer-related. The goal of The Block Report is to create relatability. I want it to be something where people from the hoods can see that you don't have to be a drug dealer or a footballer or a rapper to be successful – you can also be a media guy and be cool.
Talking about music on camera and being able to present yourself in a relevant and interesting way is very difficult to achieve. Not everyone can get away with it. How can you do it so easily?
First and foremost: I have a real love for British musical culture. Being entertaining in front of the camera is just that I'm a human person and able to adapt to any crowd. One day I could be chill with the mandem, and the next day I could be with all the troublemakers [laughs]. Some days you might find me chilling with the emo kids; other days you could find me with the cool white kids or whatever. I think that adaptability is important. I can talk to almost anyone and it'll be a great conversation, so I'm adapting that to what I do when interviewing artists.
Socket The block report to exist solely online at an actual event must have been difficult, but the ones you've had so far have been really successful. Were open-mic events part of the vision from the start, or was it something you thought about later?
It wasn't part of the vision at all. When I started The block report, it was just supposed to be a YouTube show, but then I went to watch my older brother perform at an open mic night. There were only about thirty people but it was so bright! The presenter who was there was so cold and my brother was taking the stage. The fact that there were only 30 people in the audience meant it was so intimate, and it opened my eyes to so many things I wanted to work on. After that, I thought I'd do an open mic night to Block Report. At the time, we hadn't done live music for two years because of Covid-19, and people hadn't discovered artists in a real way for a long time. Once I did I couldn't to believe this. Honestly, the turnout for the show, I'm still shocked! [Laughs] The second show, however, was much more pressure.
Why was there more pressure the second time around?
It was a competitive week, as it was Jubilee weekend, and I ended up having to delay it. This is the first time I've said this but I actually delayed because ticket sales were low. Tickets weren't selling because everyone was going out for parties. Nobody wants to be in a dark room listening to live music, so I pushed it back until two weeks later. It's all about being strategic. It wasn't easy at all, but I loved the result. Changing lives in the music industry is my thing, and that's what I want to continue doing.
"With open mic events, or just live music events in general, you feel the energy and stage presence of an artist…In my opinion, streaming and online content is about 25% of how you should judge an artist."