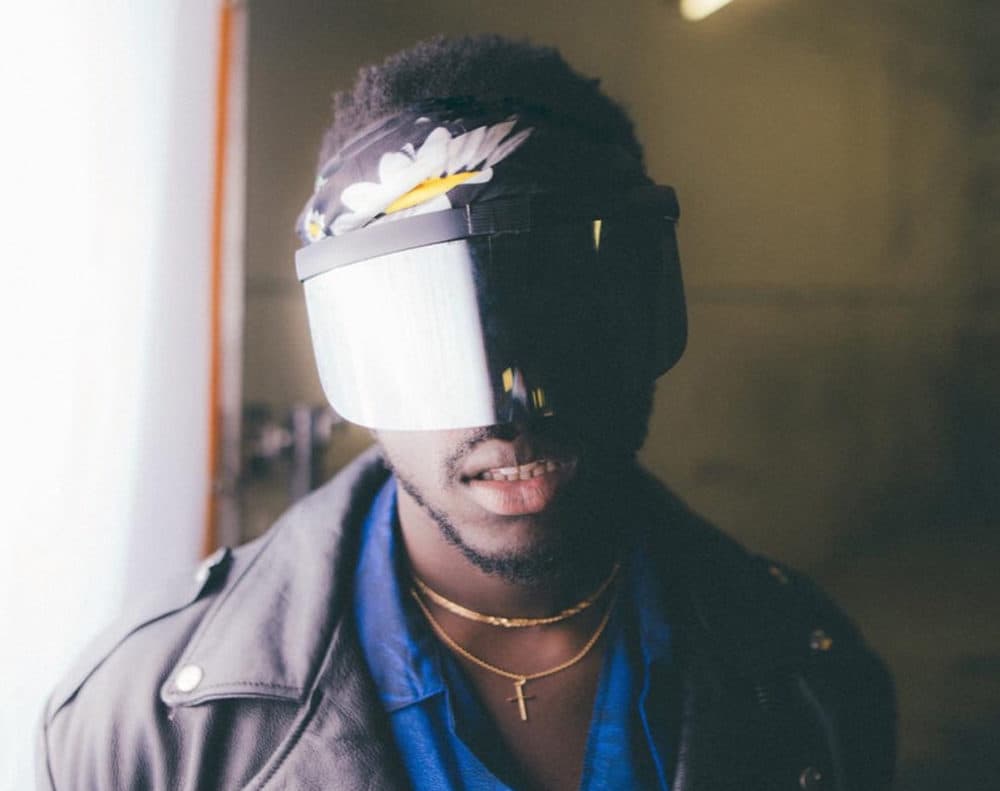 Lord Felix turns his secret into swagger as he burst onto the Boston hip-hop scene
Lord Felix never appears as Lord Felix without hiding half of his face behind a mirrored visor, making it look like he's just arrived from the future – except for now. He's taken it off when we meet on a cafe terrace in Newbury Street early on a Saturday night, but soon it becomes clear that his aura of mystery isn't going anywhere. Five minutes into the interview, he's sitting there smiling while refusing to answer my basic questions.
He won't reveal his age – won't reduce him beyond somewhere in your twenties – or even his full name. There are clues online, including a photo in a casual urban style feature in New York Magazine last year where he is listed as "Felix Van Buren", though he swears it's not not his real name. "I really like trolling," he laughs.
But while he keeps the finer details obscure, when it comes to the music itself, he means business. Earlier this month, he released "Ultraviolet," an EP that's stacked with three consecutive contenders for local song of the summer, mixing slick hip-hop with everything from electronic pop to a groove of contagious guitar. In February, he self-released his feature debut, "In Bloom, Forever," a mix of blast-with-the-windows-down bluster and post-heartbreak catharsis describing what a song title aptly describes. to "The Worst Summer ever. But though his music is sometimes somber, overall that's no downside: Lord Felix triumphs at channeling the tough times into something danceable. And he's already done hinting at another release later this summer.
Although music has been her main focus for the past three years, she also creates opportunities to show off her other creative interests. Before launching his project as Lord Felix, he spent several years studying graphic design in Boston (he points to a sign he designed hanging on the block in Newbury) and developing a background in fashion; he worked in luxury retail and designed his own streetwear line, Amerikanah.
Although he has since turned to music, he still works as a freelance designer, brings a professional edge to his own album covers and promotional materials, and follows certain corners of the fashion world, which is reflected in his videos and his performances. He just wrapped a music video shoot on the street and looks the part, appearing in a black denim jacket and half-unbuttoned vintage floral shirt, accented by a giant gold housefly pin. He explains that while he appreciates fashion for fashion's sake, it also serves a larger purpose. "I've always been a quiet guy, and I kind of did some shit through my art or what I wore, so that's how I express myself."
A few years ago, that interest led him to find his now-iconic mirrored visor at Opening Ceremony, a designer label hotspot. He admits he thinks the look is "good for branding," but it's also functional.
"I'm a very private person, so I like to create that private space. I've invested so much in all the music, so I just wanted that. [privacy]kind of like how Sia does it," he says.
He has never done a show without her and has no intention of doing so. "I think it would be completely different," he says. "It's like a shield. I feel almost protected, even the first time I played. I had no stage fright, I just felt in my own space.
When he puts it on to play, his sense of secrecy turns into bluster. The introverted ways disappear, replaced by a stage presence full of explosive energy and a blinding smile. But Lord Felix isn't an alter ego, as he explains: "It's me, but it's a more extreme version of me, all my thoughts and shit."
This is how the whole project started. He explains that he dug into music while going through a tough summer and needed something new to focus his energy on. "I didn't really take it seriously until my uncle died, and right after that I had a big heartbreak, a breakup…I just put it all into the music." It shows: "In Bloom, Forever" tells this story from the highs of a new relationship to the lows that followed. This month's release, "Ultraviolet," isn't entirely devoid of darkness, but does chronicle the bounce.
And Lord Felix is ​​on the right track right now. He has spent the past few years developing his sound and style in Brockton's burgeoning hip-hop scene, learning alongside accomplished Boston hip-hop artist (now Brockton resident) Latrell James and find a community at the SoundLab, a local studio and creative hub. It was there that he met most of his collaborators, who have since formed a creative collective, Van Buren. The group, named after a fictional gang from the show Seinfeld, includes artists and producers from around Brockton who create music both together and independently, often featuring on each other's tracks. Lord Felix also uses his design skills to create show posters for the other band members; the collective is about supporting each other both as artists and as individuals.
As he escapes beyond Brockton, he brings his collaborators with him. Some of that growth was due to necessity — while the former SoundLab site was their main venue for performances, the city closed it last September due to security breaches — but he says the push has helped them. also gave them the impetus they needed.
Further establishing himself in the Boston music scene is not easy for anyone, but with determination and enthusiastic support, Lord Felix has performed everywhere from Berklee's underground scene to the Middle East. Still, with few clubs around Boston actively booking local hip-hop, he and the rest of Van Buren still haven't found as many opportunities as they were looking for.
But they won't let that slow them down. When outside opportunities fail, Lord Felix and his associates rally together. That's how they ended up putting on the next show "Van Buren and Friends" at the Oberon. Rather than letting other venues book them, they decided to produce the event themselves, because they believe they are ready to move on to bigger things, know the crowd they can attract and have no reason to wait. .
"We have to prove something," he said. "Even if you weren't a fan, we gotta make you a believer by the end of the show. That's pretty much our thing. We're going about as hard as we can go.
---
Lord Felix performs with Van Buren & Friends on Sunday June 30 at Oberon in Cambridge.