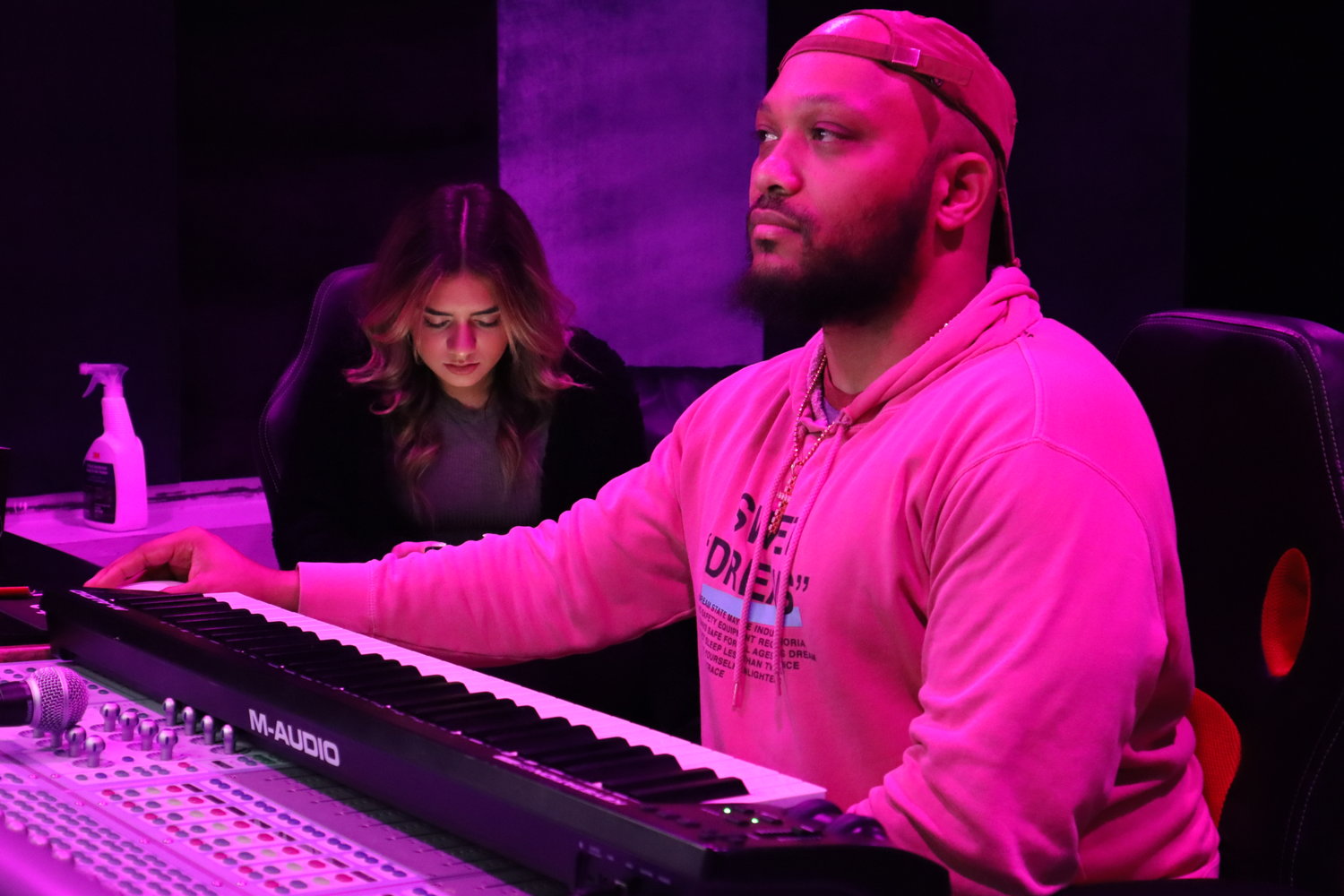 Musicians Find Inspiration at Bellmore's Sound Lab | Herald Community Newspapers
A dim purple light cast a subdued, muted glow in one of Sound Lab's newly renovated recording studios in Bellmore. Coupled with an array of recording equipment and music filling the air, the room begged its occupants to unleash their creativity.
And from chief engineer Joe Lindsay and artist Sammi Rae, they did.
Rae is one of many young artists from Long Island who have come through the doors of the Sound Lab in recent months. Since it opened last October, hundreds of artists have used the Bedford Avenue business to produce their own music.
On a recent Wednesday, Lindsay, an experienced music producer, was rehearsing with Rae before recording new material. They brainstormed which Adele song they should work with, and Lindsey then chose a melody on her electronic keyboard that gave Rae a chance to test her vocal range.
"I had no idea what was coming – it blew up," said Jay Ortiz, a Bellmore resident and director of the Sound Lab studio that runs its marketing. "It's growing faster than I thought."
Ortiz is one of the forces behind the scenes at the studio. As director, he helps organize day-to-day operations while leading a marketing team that helps promote both the Sound Lab and the music and artists that come out of it.
Before Lindsay joined the team, Ortiz was "convinced he didn't need a lot of gear," he said. "I felt you could save anywhere, like a quick way to save."
The interior of the Sound Lab, in turn, reflected this – until Lindsay arrived. He helped decorate the rooms with soundproof walls, new lighting and new equipment. With its more professional approach, Ortiz said, more and more musicians have turned to the business.
Now "it can't get much better," Ortiz said.
The Sound Lab was also the perfect outlet for Jesse Eplan, a Merrick native and graduate of John F. Kennedy High School, who holds an audio engineering degree from the Los Angeles Film and Recording School. While Eplan helps many artists produce their songs, he also produces his own music.
"When I do a session with an artist, it also helps my music," Eplan said. "I'm an engineer and producer, but I'm an artist. My job is just engineering.
Eplan produced and released music under his own name, using Sound Lab equipment. He leans towards R&B and hip hop, he explained.
"I want to be known," Eplan said.
Artists leave Sound Lab with their music, the full studio experience and something more, Ortiz said.
"It's not just about the money," he said. "I want people to walk away from here with something more than just a song and a studio experience. I want to give some insight – saying, 'I'm here with you' while they're in the studio.
In addition to helping artists seeking recognition, the Sound Lab has many guests who are simply trying to express themselves through musical creation. Some courses are taught on music programs, such as Pro Tools, to help beginners.
There are also music lessons for children to learn the basics of recording.
The Sound Lab is located at 300 B Bedford Ave. at Bellmore. For more information, call (516) 804-2222 or visit @thesoundlalli on Instagram.