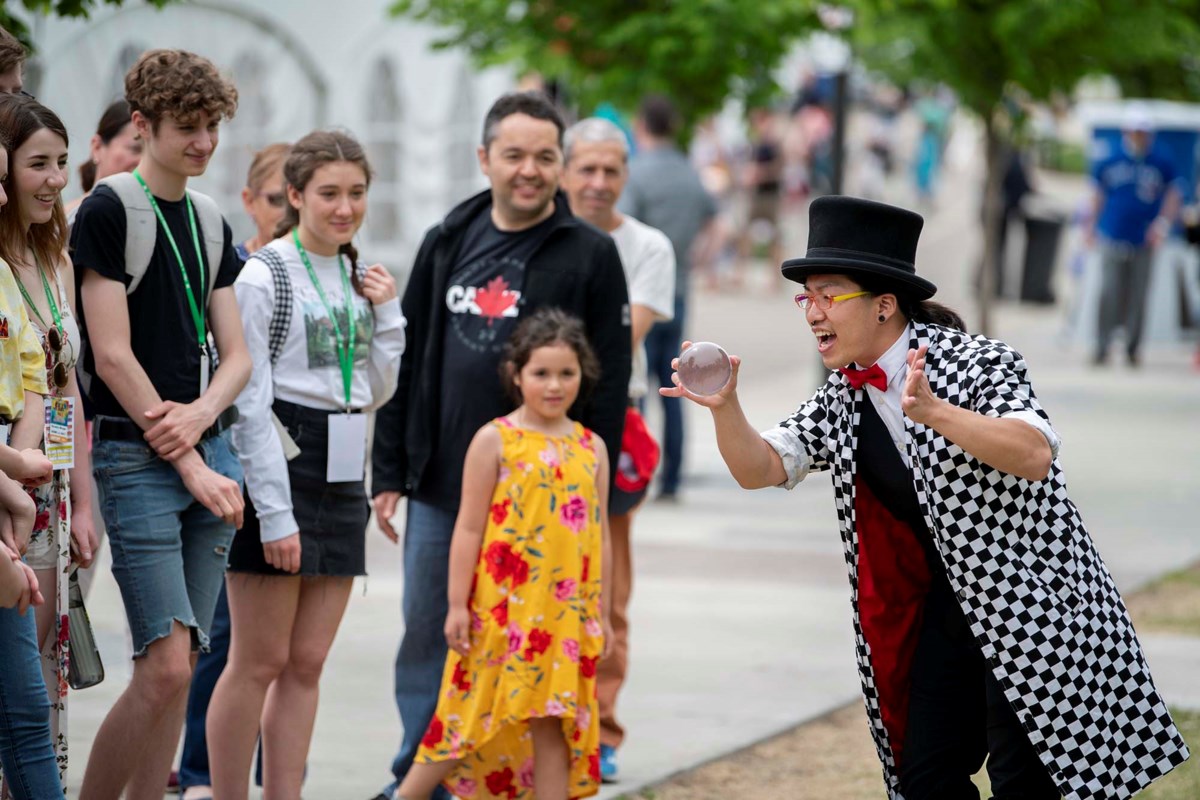 The International Children's Arts Festival returns with an in-person format
The clumsiness, silliness and joyful laughter of children walking around the grounds of the International Festival of Children's Arts will soon be a reality again.
And the organizers are delighted with the long-awaited in-person return of the festival.
But due to the unpredictability of COVID variants, the normal six-day festival has been shortened to four days, from Thursday June 2 to Sunday June 5.
"Schools were our usual audience on weekdays. Since it takes a year to plan a festival, and we were in the middle of COVID when we were planning, and we weren't sure schools would be able to come back…we decided to shorten it," said said Andrea Gammon, responsible for children. festival coordinator.
She is quick to point out that the festival will be much like previous years with an outdoor stage, traveling acts, workshops, free activities, traditional Indigenous games, a toddlers' zone and highly anticipated performances.
"The main difference is that eight to twelve months ago, when we were planning the festival, we decided to keep as much outside as possible. At the time, indoor shows were a problem.
Main Stage Shows
The festival's six main shows, designed to inspire creativity and stimulate curiosity, bring back festival favorites Koo Koo Kanga Roo and the St. Albert Children's Theatre.
New faces include FLIP Fabrique Snow stormMikey Harris and the dancers of Ivan Flett, Jam Up with the Kif-Kif Sisters, and The Silver Starlets aerobatic show.
By Snow storm, the Quebec circus troupe FLIP Fabrique takes the public on a poetic and gentle journey through the dark nights of winter. It allows spectators to experience the wonders of winter before the cold snow melts in the spring.
"They are very theatrical. They manage to combine circus and storytelling. Many circuses focus on either acrobatics or physical comedy. As the storyline goes through winter, it takes on everything and involves acrobatics. It's a big troupe and it's quite a show. And it's very timely as we navigate this crazy winter," Gammon noted.
Last performing to sold-out crowds in 2019, Koo Koo Kanga Roo is back with his eerie energy and wacky humor as he jokes about chats, potty visits, mutual aid and dance videos." brain break". After debuting "Slow Clap," a hip-hop-centric sound with plenty of grooving bass lines and monstrous drumming, the duo became a YouTube sensation.
However, at the festival, Koo Koo Kanga Roo will be armed only with an iPod, two microphones, a giant rainbow and golden sneakers. In this stripped-down show, the energetic duo will get kids moving and dancing to infectious beats and catchy pop tunes.
TikTok sensation Mikey "Dizzyfeet" Harris and his siblings Jacob and Cieanna are the Ivan Flett Dancers, a hybrid of traditional Métis Red River jigging and modern hip-hop. In this cultural mix of dance styles, audiences can experience a new side of native culture while enjoying modern hip hop.
If a charming cocktail of quintessentially Francophone vaudeville, circus, magic, puppetry and madness is your jam, check out twin sisters Françoise and Josette. At the Kif-Kif sisters Jam Upthe twins perform bizarre acrobatics such as juggling umbrellas, flying french fries, and battling giant pink monsters.
"They're great for all age groups and for our bilingual audience, it's an engaging show."
The main stage shows will be presented primarily in the city's downtown area, at the Arden Theater and Millennium Park. This year, the only outlier is the newly renovated City Arts Space in Campbell Park, home to the St. Albert Children's Theatre. He will present the troupe's annual production Junie B's Essential School Survival Guide.
In this 60-minute musical, plucky Junie B. is a self-proclaimed expert in all things freshman. But as she deals with writer's block and gets into trouble, she begins to realize that she still has a lot to learn.
"It's upbeat, fun, and a great way to see the city's new arts space."
Workshops
Organizers are expected to hold eight workshops located at various locations, including the Art Gallery of St. Albert, Celebration Garden, Cornerstone Hall, Heritage River Trail System, Heritage Museum and Visual Arts Studio at St. Albert Place.
One of the festival's most popular workshops, printmaking, always makes an impression. Youngsters learn to look for engraving in signs, books, stickers, clothing, packaging and even money.
"It's happening at the Visual Arts Studio, and they're using screen printing. It's popular because they don't always have the opportunity to do it at school or at home," Gammon said.
The Saint-Albert Art Gallery has also partnered with the festival to host It's time to goa 45-minute workshop that will allow visitors to experience mask making.
This year – 2022 – is the year of the garden and Heritage Museum is reintroducing Lois Hole through her family garden heritage. A second woman honored is Dr. Anne Anderson, who has sought to preserve the Cree language with a series of tactile objects from the Dr. Anne Anderson Métis Garden. It's also a way to learn more about pollinators and the important role they play.
Improvised campfire stories have a way of bringing people together. At the Theater of Little Souls Firestone Stories bilingual workshop, a facilitator begins a narration.
"The focus is on interactive storytelling. You start with an outline, then have students select elements that will change the direction of the story. »
Sangea Academy talk about the drum is back after their ultra-successful virtual performance at last year's festival.
"Their music is based on West African rhythms. There is room for 45 participants and it works best with students in grades 3-6. This is an opportunity to learn the beats and rhythms of West Africa.
Discovery of the Fizzlewit Fairy turns launches a treasure hunt in a magical and fairy kingdom. Children must solve puzzles and search for clues to find Flutterby, a missing fairy princess. And along the way, participants encounter pocket fairies, toilet goblins, gnomes, and nail fairies.
"He leads a party through a fairy forest. There's a whole story and mystery to solve.
In Sound Lab, Dr. Dave Clarke, a mad sound genius, provides guidance on creating sound effects and music to bring movies and games to life.
"Children hear the sound effects recorded in the movies, but they may not realize that they are recorded separately. Dave Clarke shows you how movies are recorded and the tracks overlaid on them.
Two Shumka dancers will also lead a workshop showing participants some swirling moves.
"It was planned quite early, but it is very appropriate now with what is happening in Ukraine. The two dancers will teach some of the basic techniques and simpler tricks. Visitors will also learn the context of the dances and costumes," Gammon said.
Virtual shows
Additionally, organizers have scheduled four virtual shows for families who cannot attend the festivities in person. Award-winning playwright and children's writer Marty Chan returns, hosting Unlock the safe. This is a virtual escape room where students use their wits and knowledge of math, science, and language arts to complete challenges.
In Super Agent Jon Le Bon, Montreal cartoonist Alex A. reveals the secrets of his comic book character Jon Le Bon. And award-winning American author Eric Litwin mixes music and literacy while strumming a guitar and giving interactive readings from peter the cat, Nuts, and Groovy Joe.
Finally, in the Australian production Child Nation, kids use an internet-connected device, allowing them to follow a series of prompts to physically explore and text along the way. The project allows child users to access magical secrets that might otherwise go unnoticed.
For families who prefer to stroll around the festival site, there is a series of free inclusive events and activities. They range from a kid's self-guided maze and airbrush tattoos to visiting stilt walkers and magicians.
Gammon added, "It's such a joyful place. There is something for every taste. Just being outside, being happy and laughing in the company of others is something we missed.
Tickets for shows and workshops on the Main Stage will go on sale Wednesday, April 13. Shows on the main stage are $13 per ticket and workshops are $6 per ticket.
"We are about 30% full for school days (Thursday/Friday), although individual performances/workshops will vary. Junie B. is almost sold out and Snow storm is sold at almost 50% and all workshops are sold at more than 50%.
Prior to COVID, the festival's budget was approximately $1.3 million from multiple sources including ticket sales, corporate sponsorship, individual donations and government funding. With fewer festival days, Gammon said the budget is two-thirds of the stated amount.
This year, the City of St. Albert's cash contribution to the festival is $178,000, plus in-kind staff costs. Canadian Heritage donated $95,000 and the Alberta Foundation for the Arts provided $38,000.