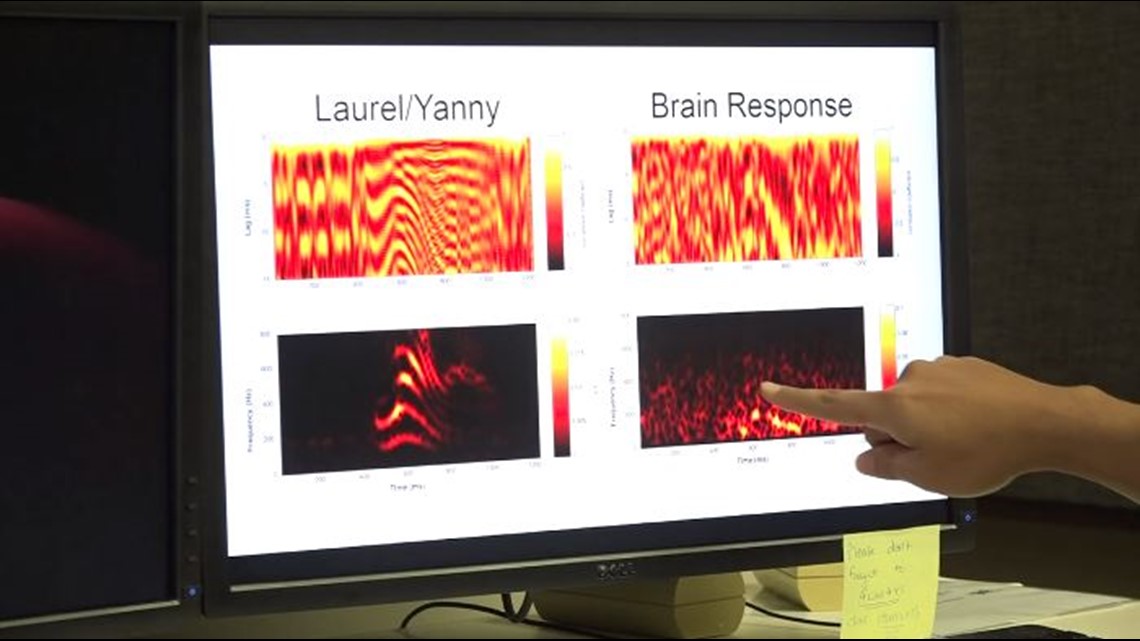 UT researchers test Yanny against Laurel in a sound lab
Researchers from the University of Texas explain the mechanisms of the viral debate.
AUSTIN – AUSTIN – For answers on the Yanny vs. Laurel debate, KVUE visited the University of Texas' Moody College of Communication.
There, researchers from the Department of Communication Sciences and Disorders experiment with the audio clip in their Sound Brain Lab where they record brain responses.
Researchers place electrodes on the research subject's head and sound-blocking headphones in their ears.
They briefly experimented on Austinite Laurel Fowler, a Texas Christian University student who was back home.
Laurel or Yanny? Experts tell us why "The Dress" for the ears is driving us crazy
'Laurel' or 'yanny'? This audio illusion is dividing the internet
She said she could only hear Laurel – before and after the experience.
"I just hear a guy with a deep voice say my name over and over again," she said. "No change. I don't know how people hear Yanny."
Researchers also played the recording on me, KVUE News reporter Rebeca Trejo. At first I heard Yanny, but after hearing it about 20 times I started hearing Laurel in a lower tone.
The experiment's director said your brain picks up different signals.
"There are several signals in speech," said associate professor of communication sciences Bharath Chandrasekaran. "At all times, our brain prejudges to go with one or the other."
With the brain waves that have been recorded, the researchers hope to better understand the perceptions of sound signals.
Different frequencies also cause deviations.
"Laurels lock onto lower frequency signals," Chandrasekaran said. "And the Yanny is at a higher frequency signal."
The researchers plan to test the audio on 15 people who hear Yanny and 15 people who hear Laurel — and 15 who hear both.