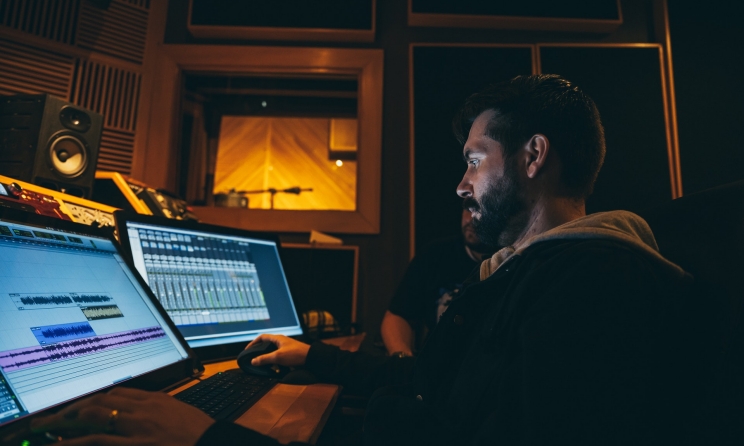 Valuable Resources for Studio Sound Engineers
But affordable hardware and software only open the door to creating quality recordings, mixes, and audio masters; Education and experience are key to success in the field. To be a sound engineer in a very competitive music industry is to be the link between science and art, and to have the ability to faithfully represent the emotionality and artistic intention of the artist.
Let's start at the beginning of the production process.
Registration
Arguably the most important element of the production phase, capturing audio in the best possible way can be more complicated than it seems. You can put a microphone in front of a source, like a singer or a guitar amp, hit record and you're done! You just recorded something but did you capture the sound and quality of the instrument or vocals so that they are well represented once you add the drums, bass and keyboards to all ?
Before setting up a microphone, you should look at how to set your recording levels with the end result in mind. We call this "gain staging" and it's explained in the video below by Justin Colletti of Sonic Scoop. This channel, like the others we explore in this article, offers tips and tricks for mixing and mastering as well as recording techniques, plugin reviews, gear comparisons, and interviews with top experts. Of the industry.
Alright, so now you know the payoff staging and it's time to record. Recording a vocalist speaking involves more than good microphone placement and level control. There is also some psychology involved in order to capture the best possible performance. If you are a sound engineer working alone with an artist, you are automatically promoted to producer. Suddenly you have to interact with a real human and not just the equipment.
Produce Like a Pro is a great channel that offers insight into the roles of a producer and all aspects of sound engineering. It's hosted by Los Angeles-based Spitfire Studio owner Warren Huart, who won the 2019 NAMM TEC Award for Audio Education Technology for his website Produce Like a Pro.
In the video below from the Produce Like a Pro YouTube channel, we learn how to get a great performance from an artist while capturing it in great sonic detail.
As you can see, recording something as "simple" as a voice can have many aspects, which require great attention.
When it comes to musical instruments, drums and piano are arguably the most complicated to record. A drum kit is made up of many audio sources that need to be combined into a single instrument. For this, we use different microphones placed in strategic positions to pick up each individual source. These are combined to create the sound of the drum kit in one large image.
The same goes for the piano, and although the piano is technically only one instrument, there are different types of iterations, such as a grand piano or an upright piano, that require different microphone placement considerations. . Pianos will also feature in many different genres of music, such as pop, rock, classical, and jazz, all of which require a unique approach to the recording process in order to achieve the sound applicable to that particular genre.
The video below demonstrates some of the complexities and options involved in recording drums and piano.
Mixed
When the recording phase is complete and the project has been edited and cleaned up, your production will move on to the mixing stage. Mixing is one of the longest processes to learn. It can be a random scenario with lots of trips to your friend's car or house to listen to the mix and decide if what you were hearing in the studio translates well to other playback devices.
One of the best tools available for dealing with the challenges of a less than perfect mixing environment is a software plugin called Sonarworks Sound ID. This is a calibration tool designed to give you a linear sound reproduction experience from your studio speakers or headphones. This will greatly improve your blending ability and take a lot of the guesswork out of your surroundings. It's also a great tool for pure music enjoyment, as you can apply calibration files to countless headphone models from many popular brands. Sonarworks has a fantastic blog full of free e-books and lots of great resources for learning more about mixing. The blog offers buying guides for earphones suited to your needs.
When mixing sound, we use a digital audio workstation (DAW) as well as third-party plug-ins created by companies that specialize in tools used in conjunction with your DAW of choice. There are many DAWs on the market such as Cubase, Studio One, Ableton, Logic and FL Studio. Some DAWs, such as Ableton and FL Studio, are geared more toward music production, while others are preferred for recording and mixing purposes. Either way, they are all equally capable of producing music, from start to finish.
Some of the leading plugin makers include Waves, Plugin Alliance, iZotope and many more. These manufacturers offer a wealth of free educational content on their platforms. It's a good idea to explore the channels provided by all manufacturers and especially those whose products you own. Waves has been at the forefront of plugin development and has partnered with some of the best known mixing engineers in the industry, such as Chris Lord-Alge, Andrew Scheps and Dave Pensado, who have all mixed success in several genres.
Waves has a series of in-depth webinars and shorts on mixing everything from vocals to drums to jazz and hip hop and everything in between, so it's best to head over to the company's channel and check it out. explore content that applies to the genres you're focused on.
Here is just a sample of the available webinars:
There are plenty of great mixing engineers out there who offer valuable content, but the ones you should follow are Grammy winners who have worked across multiple genres. One of the first engineers to start offering educational content is Dave Pensado. His website, Pensados ​​Place, has plenty of tips, techniques, and interviews to use.
To master
They say a mix is ​​never complete, only abandoned. But at some point, your mixes will have to go to radio stations and streaming platforms while some will end up in music videos. At this point, the music should be mastered.
Mastering is the process of taking the stereo mix of a song and adjusting the levels to that of a competitive nature. It's also about balancing out any dominant frequencies that can make your music sound "boomy", "boxy", or "harsh" when levels are high and dynamic range is reduced. This may involve widening or narrowing the stereo image so that a good phase relationship is maintained when songs are played on mono listening devices such as tablets and cell phones. Mastering also involves finalizing the functional order and flow of the album. It is also necessary to insert metadata – such as tracking codes, artist and album names and artwork – into the files for digital delivery.
The mastering process has changed since the advent of streaming platforms and in many ways has gone back to basics due to the resurgence of vinyl pressing. Mastering engineers used to take on the work of an entire album at once, but today they are often faced with mastering singles one by one. Even when working with singles, they need to be aware of the big picture, because one day there might be a collection of all those singles in the form of an album. Maintaining consistency became a big part of the challenge.
Mastering engineers are also faced with the new standards of volume delivery specifications, as defined by the various streaming platforms. They are all different but have roughly similar values. The standards were created to ensure that the playback levels of these platforms were consistent from song to song and artist to artist.
Some of the best known mastering engineers are Bob Katz (Digital Domain), Bernie Grundman and Bob Ludwig (Gateway Mastering). These guys have been in the game so long, they have more Grammys than teeth!
Lately I've also enjoyed contributions from Ian Shepherd, who runs the Production Advice website and is the founder of Dynamic Range Day – an annual Intensity Warfare awareness event. Shepherd has a fantastic podcast called The Mastering Show which is well worth checking out as it discusses a lot of current mastering techniques and things to consider in the digital age including the latest on Dolby Atmos and immersive music in general.
Another one of my favorite content creators right now is White Sea Studio. He dives deep into audio plugins and offers reviews, comparisons, and his overall opinion, which is both hilarious and almost always right. His Snake Oil video series offers first-hand experience on the newest and best (and seemingly not-so-great) plugins available. If you're considering buying any new plugins, I suggest you head over to his channel and see if they're actually snake oil.
Additional Resources
Below are additional resources with valuable information that you may find helpful:
Mic University: a plethora of information on microphones and their use – Danish Pro Audio (DPA) microphones.
The Mix Checks list of the most prolific mixing engineers.
Puremix: A great resource for tutorials from top Grammy winning engineers.
MHB Productions: A direct link to the interview page of seven-time Grammy-winning mixing engineer Michael Brauer.
Creative Sound Lab: Ryan Earnhardt, an excellent all-around YouTube content creator.